RRCA (Roofing & Reconstruction Contractors of America, LLC) is a premier roofing company servicing the Tampa, FL area. Our team of experienced roofing contractors provides a wide range of high-quality roofing services including roof inspection, repair, and maintenance.
Our team is dedicated to providing quality commercial and residential roofing solutions that are tailored to the individual needs of each customer, including new roof installations. We understand that a successful roof installation requires careful preparation and exacting attention to detail. Our highly skilled roofers have the expertise needed for any job, no matter how big or small.
At RRCA, we specialize in all kinds of roofing, from tile and asphalt shingles to metal and corrugated steel. We also provide roof replacement services for homes or businesses that need more than just minor repairs. Our team of Tampa roofers can help you determine the best material and design for your needs, taking into account factors such as durability, aesthetics, cost, and energy efficiency.
As an added service, we offer the installation of solar panels on both residential and commercial roofs. Installing solar panels can reduce your energy costs while also boosting the value of your property. Our team has experience installing a wide variety of solar panel configurations, so you can be sure that your roof will look great and perform as expected.
From a tile roof to a shingle roof and solar panel installations, RRCA is your one-stop shop for all your roofing needs in Tampa. With our experience, quality materials, and commitment to customer service, you're guaranteed a job well done. Don't wait until it's too late! Schedule your FREE roof inspection today and get top-quality roof repair services from RRCA.





Discover the Advantages of Hiring Local Roofing Companies for Residential Roofing in the Tampa Bay area
Discover the Advantages of Hiring Local Roofing Companies for Residential Roofing in the Tampa Bay area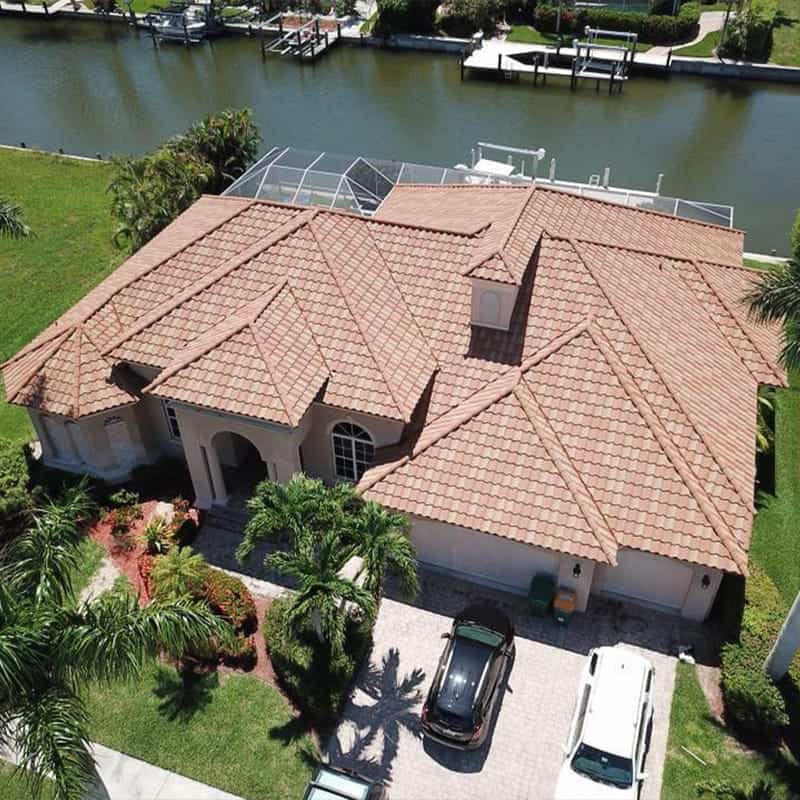 Expert Tips for Successful Roof Insurance Claims
If you're planning to file a roof insurance claim, make sure you are well-prepared to maximize the odds of an excellent outcome. RRCA has compiled a list of key tips that can help guide you through the process and ensure your success:
Understand your policy: Before you make a claim, take the time to read through your policy and understand what is covered in terms of damage, repairs, and replacement. Make sure that any roofing contractor you enlist is familiar with these policies as well.
Choose a qualified contractor: Working with an experienced and reputable roofing contractor helps ensure that you get the most out of your claim. Ask for referrals from family and friends or contact RRCA to find a qualified contractor near you.

Document all damage: Take as many photos and videos of the damage as possible so that you can provide detailed evidence when making your claim. This is especially important if you are trying to replace an existing roof with a new metal roof or a flat roof.

Get several estimates: Have different contractors provide you with estimates so that you can compare prices and services between them. This way, when it comes time to settle the claim, you will have multiple options to choose from.

Keep records of all conversations: Make sure to keep detailed written records of all conversations, emails, and communications with your insurance company. This will help you keep track of any agreements or deadlines that may have been discussed.
By following these tips, you can increase the chances of a successful roof insurance claim. You'll be one step closer to ensuring an excellent job on your roof and peace of mind for years to come. For more information on successful roof insurance claims, contact RRCA today! We're here to help maximize the odds of an excellent outcome and ensure that you get the most out of your claim.
RRCA Leads as the Top Roof Repair Contractor in the U.S.
RRCA Leads is one of the most experienced and extremely knowledgeable roof repair contractors in the United States. With over 26 years of experience, RRCA has a proven track record for delivering outstanding results. This expertise allows them to provide top-notch service when filing insurance claims.
In addition to their extensive knowledge and experience, they offer several services that make filing successful roof insurance claims easy and stress-free.
These services include:
• Re-roofing – RRCA can provide a complete re-roof if it is needed to make your roof claim successful. This includes repairing any damage, replacing missing shingles, and even installing new materials such as metal or tile roofs.
• Professional Inspection – RRCA can come to your property and perform an inspection of the roof. This will help them assess any damage that may have occurred and provide you with accurate information about what is needed for a successful claim.
• Expert Advice – With their extensive knowledge and experience, RRCA can provide professional advice on how to maximize your insurance claim. This includes providing advice on the type of roofing materials that are best suited for your home and how to negotiate with your insurance company.
RRCA is the perfect choice when it comes to roof repair contractors. With their expertise, knowledge, and experience in filing insurance claims, they can provide you with the best service possible for your home's roofing needs. Schedule your FREE roof inspection and discover why RRCA is the go-to choice for top-notch repair services.
Home Roof Repair
If your home roof needs repairs, replacement, or even if you just want to talk to an expert, contact us today for a Free Roof Certification for your residence.
Commercial Roof Repair
We specialize in Commercial Roof Repair and Replacement. If your business's roof has been damaged, contact RRCA today for a Free Roof Certification.
The Best Roof Repair Contractors
Our professional roofing contractors are skilled in high quality roof repair services. Our goal is to make your roof repair experience better than what you would ever expect!
WHY CHOOSE RRCA FOR YOUR ROOF REPAIR SERVICES?
Our roof repair company can correct issues such as:
RRCA CUSTOMER REVIEWS
Before Hurricane Ian, I was looking for roofing company due to being pressure from my insurance company of cancellation because my roof was 15 years. There were many Roofers out there. Buyers Beware. But, When Ian hit Florida, and destroy my roof; there was only one roofing company, one Project Manager Michael Herrera at RRCA who stood by me thru the whole process. All the other roofers wanted more money just because. Michael reassured me with his honesty, fair price, good value, professionalism. I was so impressed with RRCA workmanship that I upgraded my roof to a Tilcor Metal Roof. RRCA gets ⭐️⭐️⭐️⭐️⭐️⭐️⭐️⭐️⭐️⭐️

We are very happy wit our new roof. Greg was very helpful every step of the way

excellent service from start to finish. top quality work! very professional and thorough.

I highly recommend RRCA. We had a roof leak and they came right out and fixed it. Michael Herrera is professional and responds very quickly.

Would recommend RRCA for allof your roofing needs. After Ian, I was in need of a new roof and had a few companies out. I chose RRCA and glad I did. Harrison and Dillon were the representatives that I dealt with and they were exceptional! They worked within my insurance companies guidelines and everything went very smoothly. The work completed was clean, efficient, and masterful. The demo and install crews also very professional and kept us informed of what they were doing. Have already recommended them to neighbors and friends and they are helping them with their roofing needs! 5 Stars for sure!!Joe Pelletier (Homeowner)

I've worked here for almost 3 years now. Absolutely love this company! The people make the environment a great place to be!

I don't usually write reviews but when a job performed on my home far exceeds my expectations, this company deserves one. Dustin was truly amazing he came to my house the following day after I called them and explained to me why my roof was leaking, and how it needed to be fixed. After agreeing to the cost, which was very reasonable for he repairs that needed to be done. The following day his crew showed up at my house and started by taking pictures of my roof and also explained what was wrong. Shortly after , Dustin showed up and stayed to make sure that the job was completed as he promised. Every step of the repair they showed me pictures of what they were doing. When completed they took a hose and let the water run for at least 10 minutes where the repairs were done to make sure my roof wasn't leaking. It was not and hasn't leaked since. Dustin also checked other areas of my roof to make sure there were no other potential problems and thank god that there were none He could have easily said that there were and I would have fully trusted him and paid to have them fixed. Straight up guy who will not take advantage of you. A pleasure to work with. You can't go wrong by using this company. Do yourself a favor and use this company. You will not be disappointed. Thank you Dustin!!!

Greg Madden was honest and trustworthy. He walked me through the whole process. Everything he said was done. The roof and gutters came out wonderful. I am so thankful for meeting Greg. This was a very good experience. I wish every company worked like this.

I recently started working with RRCA and is by far one of the best companies I have ever worked with! Every single person here works very hard to make sure that all clients are taken care and happy!

SCHEDULE YOUR FREE ROOF CERTIFICATION TODAY!
HIRE A ROOFING COMPANY YOU CAN TRUST