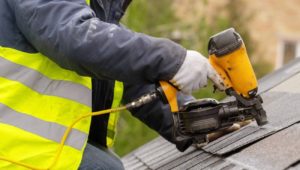 If your residential or business roof has been damaged by a storm, such as hail damage or hurricane damage, it is incredibly important to file a roof insurance claim as soon as possible. Most insurance companies limit the time frame that you can submit your roof claim after a storm. Don't wait another day! Schedule your FREE ROOF INSPECTION today where an RRCA Roofing Professional will come out to inspect your property & help you with filing your roofing insurance claim.
A New Roof Installation You Can Rely On For Years To Come
RRCA (Roofing & Reconstruction Contractors Of America) offers a full array of top-of-the-line roofing materials suitable for your residential and commercial roofing needs. That is why we are certified by almost every manufacturer of roofing materials as Master Installers.
The materials we offer provide a beautiful aesthetic look, as well as different levels of fire resistance, durability, and warranty protection. You can rely on our expert roofing staff to help you select the right roofing system for your property based on your needs & your budget.
New Roof Installation Options Include:
RRCA CUSTOMER REVIEWS
Working directly with RRCA on the business side has been an absolute pleasure. Their staff shows the upmost professionalism and is always quick to the charge to do whatever it takes to make the customers happy. They bring the "southern hospitality" everywhere they go. I would 10/10 recommend RRCA to anyone I know.

We had windstorm damage on the roof. We had RRCA do an inspection. Mike Herrera was the Project Manager. Mike worked with the insurance company. He always answered his phone if able or responded soon after to messages. He came to the house after hours if needed to keep things moving. As soon as approved RRCA promptly began work and finished the job. The roof looks good.

I'm gathering quotes and Nate Fowler was the most helpful rep I've dealt with so far! His professionalism and attention to detail are swaying me in his direction!

Nate was helpful and professional throughout the entire experience! He made everything simple.

After some store damage we ran into Stephen Kaywell from RRCA, he was able to help us navigate the insurance clam process and talk to us about each step of the renovation. He really made the entire process turn key for my wife and I. We have recommended RRCA to a few our our friends already. I can't praise him and his company enough.

Was referred to RRCA by a friend and they were great from start to finish. Mike from RRCA was transparent with me from the beginning and assisted me in getting my roof covered by the insurance company due to damage and I only had to pay my deductible. The installation was seamless and I am now the owner of a brand new roof and paying less for my homeowners insurance.I would definitely recommend RRCA to anyone.

Kevin and Evet were very professional helped us thru this process to replace roof.

Very professional, Dylan was on it very fast gave us an estimate was down to the exact penny. Kept in contact to the end will definitely recommend his company, will also use his company again. Have no doubt on using his company for your re roofing.

Initially I dealt with Joe Carusso and Michael Herrera and I was skeptical. They proved me wrong. They were tireless and their efforts to replace our roof that was damaged by wind. They were equally relentless in their efforts to deal with our insurance company and were totally successful. I urge you to do business with these two young men and their company RRCA Roofing Company. We now have a good quality roof as a result of their hard work. Very good communication and follow through.

SCHEDULE YOUR FREE ROOF CERTIFICATION TODAY!
HIRE A ROOFING COMPANY YOU CAN TRUST