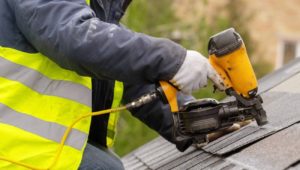 If your residential or business roof has been damaged by a storm, such as hail damage or hurricane damage, it is incredibly important to file a roof insurance claim as soon as possible. Most insurance companies limit the time frame that you can submit your roof claim after a storm. Don't wait another day! Schedule your FREE ROOF INSPECTION today where an RRCA Roofing Professional will come out to inspect your property & help you with filing your roofing insurance claim.
Roof Installation That You Can Rely On For Years To Come
RRCA (Roofing & Reconstruction Contractors Of America) offers a full array of top-of-the-line roofing materials suitable for your residential and commercial roofing needs. RRCA is specialized in New Roof Installation. That is why we are certified by almost every manufacturer of roofing materials as Master Installers.
The materials we offer provide a beautiful aesthetic look, as well as different levels of fire resistance, durability, and warranty protection. You can rely on our expert roofing staff to help you select the right roofing system for your property based on your needs & your budget.
New Roof Installation Services Include:
RRCA CUSTOMER REVIEWS
We were very fortunate to work with Brenden and have our roof replaced after Ian. The roof looks great and we are waiting to finalize the project. Brenden was very responsive. I think we will be completely satisfied.This is a final shout out for a job well done. Our roof is complete and beautiful. No horror stories with this company. They did what they promised!

Excellent work on installing a new roof. Clean up was outstanding. Five Star rating. 100% satisfaction. Highly recommend this company and it's services. Thanks

From the moment Marlee Eubanks knocked on our door until the final inspection she kept us informed every step of the way. She was very professional and knew her business very well. I highly recommend you request Marlee as your Project Manager!

Jared was AWESOME! He provided the best customer service, always responded very quickly, explained everything in full detail and was extremely helpful. His team dealt directly with my insurance so I didn't have to hassle them about payment, made our lives so much easier. Highly recommend Jared and his team!

My experience with RRCA roofing andMichael Herrera was absolutely outstanding,From start to finish everything was doneOn schedule and the quality of workmanshipAnd the installers Were also outstanding,I would not hesitate to use them again orRecommend to others,Michael Kelly (Home owner)

After Ian , our roof and gutters needed replacing. The job was well done, and Mike Herrera was very professional and worked with us throughout the entire process.

We needed a Re-Roof after Ian. Michael Herrera and RRCA were quick to respond and help walk through the insurance process. I would highly recommend them to others.

They worked with the insurance company to insure that I did not pay more than the insurance covered. The project manager, Michael H, was very responsive to inquiries. Use RRCA with confidence.

Of all the contractors I have worked with, RRCA's Regional Manager, Mr. C. O'Brien, is without question, the most professional, most knowledgeable and on time contractor, I have met. It's nice to see timely response and someone who does what they say.

SCHEDULE YOUR FREE ROOF CERTIFICATION TODAY!
HIRE A ROOFING COMPANY YOU CAN TRUST