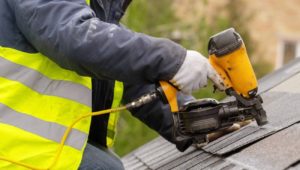 If your residential or business roof has been damaged by a storm, such as hail damage or hurricane damage, it is incredibly important to file a roof insurance claim as soon as possible. Most insurance companies limit the time frame that you can submit your roof claim after a storm. Don't wait another day! Schedule your FREE ROOF INSPECTION today where an RRCA Roofing Professional will come out to inspect your property & help you with filing your roofing insurance claim.
Roof Installation That You Can Rely On For Years To Come
RRCA (Roofing & Reconstruction Contractors Of America) offers a full array of top-of-the-line roofing materials suitable for your residential and commercial roofing needs. RRCA is specialized in New Roof Installation. That is why we are certified by almost every manufacturer of roofing materials as Master Installers.
The materials we offer provide a beautiful aesthetic look, as well as different levels of fire resistance, durability, and warranty protection. You can rely on our expert roofing staff to help you select the right roofing system for your property based on your needs & your budget.
New Roof Installation Services Include:
RRCA CUSTOMER REVIEWS
Jared was amazing helping us get all the things we needed to make this a smooth transition to a new roof. Great workmanship as well. Jessica helped with the follow up as well

Great experience with Kris Protano and the RRCA group. Everything from the new roof to the solar system installation is a 5 star experience.

We just recently had our roof replaced with RRCA. We worked with Scott, Shari, and Jay. They were all very helpful and and accommodating throughout the entire process. They were able to give us a fair price on our roof replacement and were easily reachable to answer any questions that we had.

I reached out to RRCA after a storm came through and I noticed damage on my roof. RRCA quickly contacted me and sent Greg out to talk me through options. Greg was always very responsive to any questions I had and made the process easy. Any other conversations I had with the office were pleasant and helpful. Thanks for the new roof and the great customer service!

Dave was great throughout the entire process. The crew worked around rain showers but that's pretty typical for FL and were still able to get the old roof off in 2 days. Installation of the new roof was also completed in 2 days and looks great.

RRCA did a tremendous job on all aspects of our project. Their representatives were always responsive and helpful. While our project had some speed bumps, they were always overcome with the help of RRCA

RRCA was extremely confident and professional. They delvered success at each opportunity

RRCA was very helpful in assisting and guiding us with our insurance and mortgage companies through the entire roofing process. We would recommend RRCA for your roofing needs.

Everyone at RCA has been great to work with sometimes a little bit tough to get ahold of but Nick Hilton has done a great job as as all the employees that I have contact with

SCHEDULE YOUR FREE ROOF CERTIFICATION TODAY!
HIRE A ROOFING COMPANY YOU CAN TRUST