YOUR TRUSTED
ROOFING CONTRACTORS
RRCA specializes in professional roof restoration after wind & hail storms for both residential & commercial. Schedule A Free Roof Inspection to get your roof damage covered by your insurance & professionally restored by RRCA.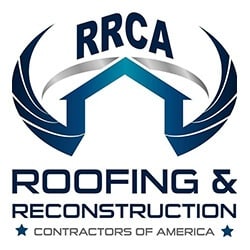 Welcome to RCAA
Your Premier Roofing Company
RRCA first opened our doors in 1993. In the 25+ years since, we have completed over 10,000 re-roofing projects! We are your one-stop for the best commercial & residential roofing restoration services. Being the 27th largest roofing contractor in the U.S., we take pride in putting our customers first.
Our high-quality materials, professionalism and after-service warranty will make you feel great about choosing RRCA as your roofing company. Our professional roofers make sure to treat you like family, and make sure the job is done right at a higher level than other roofing companies.
All our services begin with a free roof inspection. Give us a call today at 1-877-240-7722 to schedule your free inspection or to ask any questions you have about our services.
Why Choose RCAA As Your Roofing Company?
Reviews From Our Roofing Customers
We Always Put Our Customers First!
I had Ray Zavala as a residential roof contractor his promptness and professionalism was great he made this slot more understandable in which I am not . The job was done in a timely manner and I was very happy with the clean up as well thank you

Great experience dealing with Project Manager Jay Luna from RRCA roofing & reconstruction. Jay proved himself to be accessible, dependable, and professional. Always available and willing to answer questions/help. Made the situation from the storm easy to deal with. He went above and beyond and we highly recommend him.

We are very pleased with RRCA and our new roof. The company has a new sales manager named Harrison, who was very professional, knowledgeable and responsive. He was always updating us and answering the phone to answer our questions. Our new roof looks very nice and the project was completed in a timely manner, which was great. We hightly recommend them.

Our home never looked better. Ray at RRCA came highly recommended by a good friend. When Ray came to our home he assured us that he would get the job done and it would be done with great integrity. We left everything in his hands and the roof looks beautiful! It made the house look so improved! It's beautiful. RRCA is the way to go and Ray is the best.

Great experience dealing with representative Shawn Stafford from RRCA roofing & reconstruction. Shawn proved himself to be accessible, dependable, and professional.

Judy Knight here. Welden Holloway is best in service... professional, service, knowledgeable, follow up. My roof not installed but work in our hood excellent. 5 star!

Worked with Weldon. Always available and willing to answer questions/help. Made the situation from the storm easy to deal with. Highly recommend him.

quality material ,good work and clean up. did our roof in a day and a half, love it. kevin and evet a pleasure to work with, they handled everything, insurance and permits . I highly recommend this company . ask for kevin he knows his stuff.

My experience with RRCA roofing was excellent. Steven, the representative I worked with, was very professional, informative and was always available if I had any questions or needed anything. The job was also completed about a month sooner than scheduled and they did a great job. Hopefully I will never need any more roof work in my future but if I do they will be the company I call.