RRCA provides reliable roof repairs for all types of roofs, from asphalt shingles to flat roofs. Our experienced team of professional roofing contractors utilizes the latest technology and techniques to ensure quality results on every job.
Contact RRCA today for a free roof inspection if you require high-quality roof repair services. Our roofing experts will inspect your property and recommend repairing or replacing the roof based on the best options available. If the damage is due to a storm, it is possible to file a roof insurance claim to have your policy cover the cost of a new roof.
We also specialize in residential and commercial roofing services, from replacements and repairs to new construction. We guarantee our workmanship with a warranty on all the materials used. Our experienced roofers will ensure that each job is completed correctly and safely.
When you are looking for an experienced roofing company in Naples, FL, contact RRCA for high-quality services. We offer competitive pricing and exceptional customer satisfaction. Our goal is to ensure that you have a roof that will last for many years to come. Get in touch with us today to learn more about our services. We look forward to meeting your roofing needs!





Why It's Important to Repair Your Roof Sooner Rather Than Later
It is crucial to prioritize professional roof repair or replacement after a storm damages your roof since the roof is the most significant aspect of your house or business property as it safeguards both the structural integrity and the people inside. At RRCA, we understand the importance of getting your roof back in shape as soon as possible. We specialize in fast and trustworthy roofing services, promising to get your home back to pre-storm condition quickly and safely with our team of experienced roofers.
Our experts are capable of tackling all types of roof repair and replacement jobs that span from small to large-scale projects. We repair and install all types of roofing systems, including metal roofs, flat roofs, clay tile roofs, slate roofs, asphalt shingle roofs, and more. Our roofers utilize the highest quality materials and products available in the industry to ensure your roof is well-protected against storms for years to come.
We are backed by decades of experience with a myriad of roofing systems, and our team is equipped to handle any issue you may be having. Whether you require regular maintenance or a full replacement due to storm damage, RRCA will deliver professional results that are designed to last.
When it comes to reliable roof repair in Naples FL, look no further than the experts at RRCA. We specialize in providing fast and efficient roofing services that our customers trust to keep their homes safe for years to come. Contact us today to get started on restoring your roof after storm damage.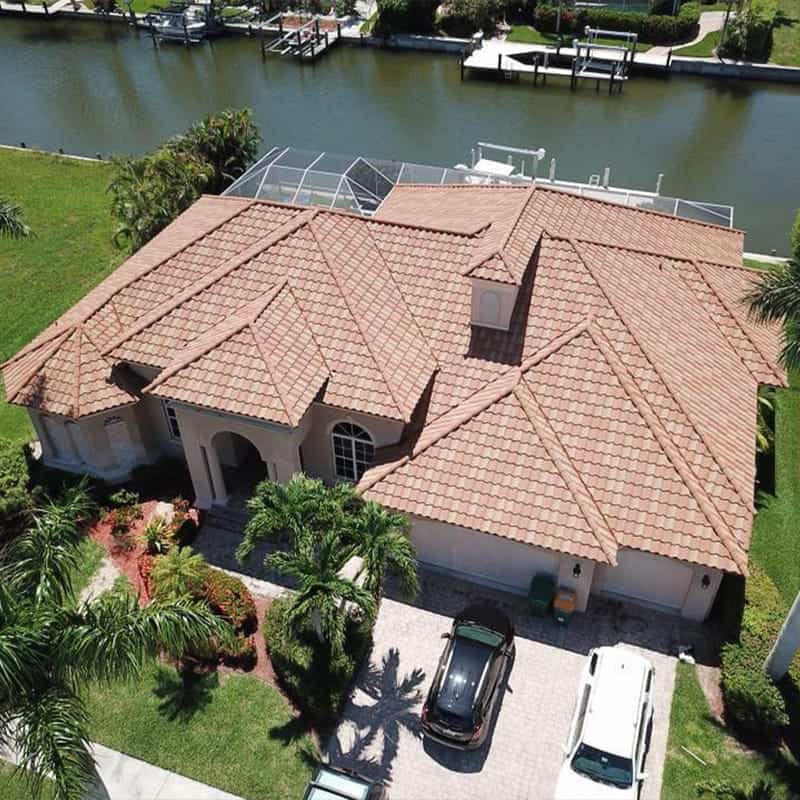 Common Types of Naples Roofing Damage You Should Know
It's important to know that your roof safeguards your house against weather conditions. Nevertheless, due to the constant exposure, it may incur damage over time. Being aware of the common types of roof damage is essential so that you can detect issues early and act swiftly. We will delve into some of the most frequent forms of damage to the roof.
Leaks and Water Damage:

Roof leaks and water infiltration are among the most typical types of roof damage. Continuous exposure to rain, snow, and humidity can cause shingles to weaken or flashing to get damaged. As a consequence, if left unchecked, water can penetrate the roof, resulting in interior water stains, mold growth, rot, and structural damage.
Shingle Damage:

A damaged roof can cause the structural integrity of your building to become compromised by water intrusion. This can turn into even more expensive repairs to replace wood framing of the building.

Hail Damage:

Hailstorms can cause significant damage to roofs, especially in regions that experience severe weather conditions. The impact of hailstones on the surface of the roof can result in dents, punctures, or loss of granules from shingles. These types of damages can weaken the roof's ability to shed water, making it more susceptible to leaks and reducing its overall lifespan.

Wind Damage:

During storms or hurricanes, roofs can be seriously damaged by strong winds. Shingles can be uplifted or loosened, leaving the underlying layers vulnerable to water infiltration. Moreover, wind can cause debris, branches, or entire trees to fall onto roofs, resulting in substantial damage.

Poor Installation or Maintenance:

Roof damage can be caused by incorrect installation or failure to maintain properly. The usage of low-quality materials during installation, insufficient flashing, and improper sealing can result in the early deterioration of the roof. Lack of routine cleaning, inspection, and maintenance can cause minor problems to worsen.
RRCA -Roofing & Reconstruction Contractors of America specializes in repairing and restoring damaged roofs in Naples, FL. We use the highest quality roofing products to ensure that your old roof is replaced with one that will last for years. Our experienced contractors are highly-skilled and knowledgeable when it comes to all aspects of roofing work, so you can trust us to get the job done right. Contact us today for a free estimate!
NAPLES ROOF INSURANCE CLAIMS
If your roof gets damaged by a storm, like a hurricane or hail storm, insurance companies may have a time limit for submitting a claim. To avoid missing out, it's recommended that you get a free roof inspection right after a storm, from one of RRCA's professionals. They'll inspect the roof, manage the insurance claim process, and repair or replace the roof after approval.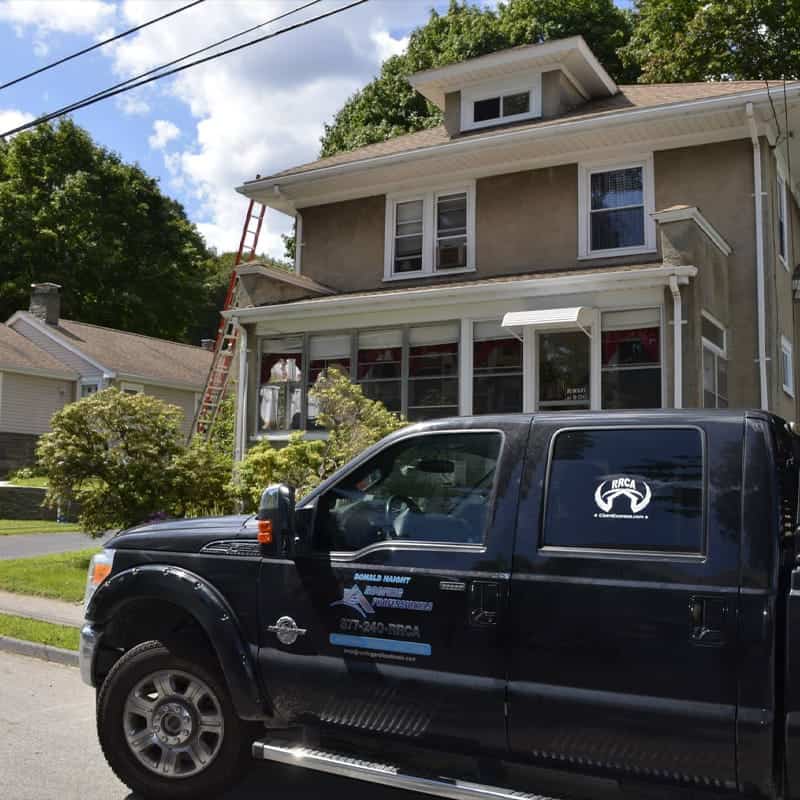 RRCA: Your Trusted Partner for Roof Repair Services
Our mission is to provide quality roof repair services in Naples, FL that leave our satisfied customers fully happy with the results. Our team of certified technicians and project managers have decades of experience working with all types of roofs, from tile to shingle. We only use premium-quality materials and workmanship to ensure the longevity and reliability of the roof. We are committed to providing our customers with the best experience possible and guaranteeing their satisfaction with every job we complete.
Professional Roof Repair Services
RRCA provides a range of roofing services, from simple repairs to maintenance, storm damage patches, and complete roof replacements, all executed with professionalism.
Prompt & Efficient Repairs
Our team will complete your roof repair services promptly and skillfully, taking excellent care of your property.
20+ Years Of Experience
RRCA has more than 20 years of experience in roofing, which enables them to identify and resolve any roofing issues you may have. They will offer the most suitable solution going forward.
With RRCA, you can trust that your roof repair needs are in the hands of experienced professionals. Our commitment to quality ensures that your roof will be repaired according to the highest standards. We strive for excellence with every project we take on and our customer satisfaction ratings speak for themselves – you can trust us to get the job done right! Contact us today if you have any questions about our services or would like a free quote for your next roof repair project!
Home Roof Repair
If your home roof needs repairs, replacement, or even if you just want to talk to an expert, contact us today for a Free Roof Certification for your residence.
Commercial Roof Repair
We specialize in Commercial Roof Repair and Replacement. If your business's roof has been damaged, contact RRCA today for a Free Roof Certification.
The Best Roof Repair Contractors
Our professional roofing contractors are skilled in high quality roof repair services. Our goal is to make your roof repair experience better than what you would ever expect!
WHY CHOOSE RRCA FOR YOUR ROOF REPAIR SERVICES?
Our roof repair company can correct issues such as:
RRCA CUSTOMER REVIEWS
Before Hurricane Ian, I was looking for roofing company due to being pressure from my insurance company of cancellation because my roof was 15 years. There were many Roofers out there. Buyers Beware. But, When Ian hit Florida, and destroy my roof; there was only one roofing company, one Project Manager Michael Herrera at RRCA who stood by me thru the whole process. All the other roofers wanted more money just because. Michael reassured me with his honesty, fair price, good value, professionalism. I was so impressed with RRCA workmanship that I upgraded my roof to a Tilcor Metal Roof. RRCA gets ⭐️⭐️⭐️⭐️⭐️⭐️⭐️⭐️⭐️⭐️

We are very happy wit our new roof. Greg was very helpful every step of the way

excellent service from start to finish. top quality work! very professional and thorough.

I highly recommend RRCA. We had a roof leak and they came right out and fixed it. Michael Herrera is professional and responds very quickly.

Would recommend RRCA for allof your roofing needs. After Ian, I was in need of a new roof and had a few companies out. I chose RRCA and glad I did. Harrison and Dillon were the representatives that I dealt with and they were exceptional! They worked within my insurance companies guidelines and everything went very smoothly. The work completed was clean, efficient, and masterful. The demo and install crews also very professional and kept us informed of what they were doing. Have already recommended them to neighbors and friends and they are helping them with their roofing needs! 5 Stars for sure!!Joe Pelletier (Homeowner)

I've worked here for almost 3 years now. Absolutely love this company! The people make the environment a great place to be!

I don't usually write reviews but when a job performed on my home far exceeds my expectations, this company deserves one. Dustin was truly amazing he came to my house the following day after I called them and explained to me why my roof was leaking, and how it needed to be fixed. After agreeing to the cost, which was very reasonable for he repairs that needed to be done. The following day his crew showed up at my house and started by taking pictures of my roof and also explained what was wrong. Shortly after , Dustin showed up and stayed to make sure that the job was completed as he promised. Every step of the repair they showed me pictures of what they were doing. When completed they took a hose and let the water run for at least 10 minutes where the repairs were done to make sure my roof wasn't leaking. It was not and hasn't leaked since. Dustin also checked other areas of my roof to make sure there were no other potential problems and thank god that there were none He could have easily said that there were and I would have fully trusted him and paid to have them fixed. Straight up guy who will not take advantage of you. A pleasure to work with. You can't go wrong by using this company. Do yourself a favor and use this company. You will not be disappointed. Thank you Dustin!!!

Greg Madden was honest and trustworthy. He walked me through the whole process. Everything he said was done. The roof and gutters came out wonderful. I am so thankful for meeting Greg. This was a very good experience. I wish every company worked like this.

I recently started working with RRCA and is by far one of the best companies I have ever worked with! Every single person here works very hard to make sure that all clients are taken care and happy!

SCHEDULE YOUR FREE ROOF CERTIFICATION TODAY!
HIRE A ROOFING COMPANY YOU CAN TRUST