RRCA is a leading residential and commercial roofing company in Orlando, FL. Our team of top roofing contractors offers years of experience to our customers and ensures high-quality workmanship for every roof repair or replacement project.
RRCA takes great pride in offering exceptional roof repair services in the Central Florida area. We believe that a well-maintained roof is essential for the safety and security of any property. When you choose RRCA for roof repairs, you can expect prompt response times, thorough inspections, and transparent communication throughout the process. We use high-quality materials and advanced techniques to ensure that the repairs stand the test of time.
At RRCA, customer satisfaction is at the heart of everything we do. We value our clients' trust and strive to exceed their expectations on every project, setting us apart from other roofing companies. This dedication to excellence has earned us numerous positive reviews and referrals, making us a trusted name in the roofing industry.
Whether you are a homeowner in need of roof repairs or a business owner seeking reliable commercial roofing services in Orlando, FL, RRCA is the roofing company you can rely on. From minor repairs to complete roof replacement, our exceptional roof repair services are designed to protect your property and provide you with peace of mind. Don't wait for roofing issues to escalate; contact RRCA today and experience the difference that our expertise can make for your new roof.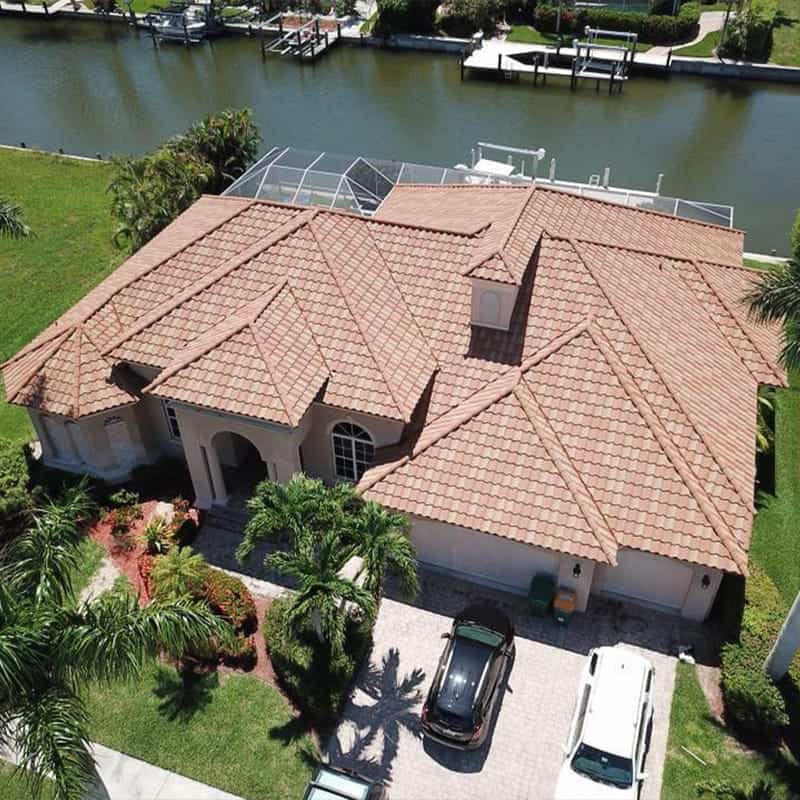 Professional Tips to Avoid Costly Repairs in Florida
As a property owner in Florida, protecting your investment from potentially costly repairs is crucial, especially when it comes to both commercial and residential roofing. Florida's climate, with its combination of high temperatures, humidity, and occasional severe weather events, can take a toll on your property, making proper roof maintenance and proactive measures essential. To help you maintain your roof's integrity and avoid expensive repairs, here are three essential tips:
Regular Roof Inspections and Maintenance


One of the most effective ways to prevent costly roof repairs is to schedule regular roof inspections and maintenance. Engage the services of a professional roofing company in Florida, partnering with a reliable roofing contractor, to conduct thorough inspections at least twice a year, ideally in the spring and fall seasons. These inspections can identify minor issues before they escalate into major problems. Experienced roofing professionals will check for signs of wear, damage, leaks, and any potential vulnerabilities.

In addition to inspections, routine maintenance should be performed promptly with the assistance of RRCA, the best roofing company in Florida. Clearing debris, leaves, and branches from the roof and gutters is essential, as they can trap moisture and cause water damage over time. Timely repairs of loose or damaged shingles, flashing, and seals are vital to maintain the roof's integrity and avoid larger issues down the road.

Ensure Proper Roof Ventilation
Proper roof ventilation is often overlooked but plays a critical role in extending the lifespan of your roof and preventing costly repairs for your roofing business. In Florida's hot and humid climate, inadequate ventilation can lead to excessive heat buildup in the attic, causing shingles to deteriorate prematurely and trapping moisture that can lead to mold and rot.

Consult with a professional roofing contractor to assess your roof's ventilation system and make any necessary improvements, especially if you have a leaky roof. A well-ventilated roof allows air to circulate freely, helping to regulate the temperature and reduce the risk of structural damage caused by moisture and humidity.

Address Storm Damage Promptly
Florida is no stranger to severe weather events, including hurricanes and tropical storms. When a storm strikes, it's essential to inspect your roof for any damage as soon as it is safe to do so, regardless of the type of roofing material you have. Even seemingly minor damage, such as loose or missing shingles, can compromise the roof's integrity and lead to leaks and further issues if left unaddressed.

Don't delay in contacting reputable Orlando roofers for a professional roof inspection and necessary repairs after a storm. Many insurance policies have strict time frames for reporting and filing claims for storm damage, so acting promptly can help you avoid potential complications and ensure that you receive the coverage you deserve.

To ensure optimal protection for both your residential and commercial roof in Florida, it's essential to collaborate with the best roofing companies. RRCA – Roofing & Reconstruction Contractors Of America LLC is a licensed and insured roofing contractor that specializes in everything from small repairs to full roof replacements. Whether you're looking for help with your home improvement project or just need assistance with your roofing needs, our team of experienced professionals has the expertise and knowledge to get the job done right. Contact us today to learn more about our services!
Reliable Full Roof Replacement and Roof Repair Services in Orlando FL – Choose RRCA for Exceptional Results!
At RRCA in Orlando FL, we understand how stressful it can be when you detect damage to your roof. Whether it's caused by time, natural wear and tear, or storm damage, having a reliable contractor on hand to expertly handle your damaged roof is essential for quick repairs and full roof replacement services. We specialize in making sure homeowners get the best results at an affordable price.
We are fully insured and certified to act on behalf of your insurance company when it comes to roof replacement or repair services. Our team is trained to work with all types of roofs, including asphalt shingles, tile, metal, and flat roofs. We use only the best materials and products from trusted manufacturers to provide superior results.
Our team will assess the damage to your roof and provide a comprehensive solution tailored to meet your needs. We can replace damaged shingles, repair or replace gutters, and provide full roof replacements for older roofs that are beyond repair. Our staff is highly knowledgeable and experienced in working with homeowners throughout the entire process, from start to finish.
We recognize the significance of having a safe and secure roof over your head, and our dedicated team is committed to delivering exceptional service tailored to your requirements. When it comes to roof replacement or repair services in Orlando FL, look no further than RRCA. We assure you that our results will meet and exceed your expectations! Reach out to us today for further information on how we can assist you.
Home Roof Repair
If your home roof needs repairs, replacement, or even if you just want to talk to an expert, contact us today for a Free Roof Certification for your residence.
Commercial Roof Repair
We specialize in Commercial Roof Repair and Replacement. If your business's roof has been damaged, contact RRCA today for a Free Roof Certification.
The Best Roof Repair Contractors
Our professional roofing contractors are skilled in high quality roof repair services. Our goal is to make your roof repair experience better than what you would ever expect!
WHY CHOOSE RRCA FOR YOUR ROOF REPAIR SERVICES?
Our roof repair company can correct issues such as:
RRCA CUSTOMER REVIEWS
Before Hurricane Ian, I was looking for roofing company due to being pressure from my insurance company of cancellation because my roof was 15 years. There were many Roofers out there. Buyers Beware. But, When Ian hit Florida, and destroy my roof; there was only one roofing company, one Project Manager Michael Herrera at RRCA who stood by me thru the whole process. All the other roofers wanted more money just because. Michael reassured me with his honesty, fair price, good value, professionalism. I was so impressed with RRCA workmanship that I upgraded my roof to a Tilcor Metal Roof. RRCA gets ⭐️⭐️⭐️⭐️⭐️⭐️⭐️⭐️⭐️⭐️

We are very happy wit our new roof. Greg was very helpful every step of the way

excellent service from start to finish. top quality work! very professional and thorough.

I highly recommend RRCA. We had a roof leak and they came right out and fixed it. Michael Herrera is professional and responds very quickly.

Would recommend RRCA for allof your roofing needs. After Ian, I was in need of a new roof and had a few companies out. I chose RRCA and glad I did. Harrison and Dillon were the representatives that I dealt with and they were exceptional! They worked within my insurance companies guidelines and everything went very smoothly. The work completed was clean, efficient, and masterful. The demo and install crews also very professional and kept us informed of what they were doing. Have already recommended them to neighbors and friends and they are helping them with their roofing needs! 5 Stars for sure!!Joe Pelletier (Homeowner)

I've worked here for almost 3 years now. Absolutely love this company! The people make the environment a great place to be!

I don't usually write reviews but when a job performed on my home far exceeds my expectations, this company deserves one. Dustin was truly amazing he came to my house the following day after I called them and explained to me why my roof was leaking, and how it needed to be fixed. After agreeing to the cost, which was very reasonable for he repairs that needed to be done. The following day his crew showed up at my house and started by taking pictures of my roof and also explained what was wrong. Shortly after , Dustin showed up and stayed to make sure that the job was completed as he promised. Every step of the repair they showed me pictures of what they were doing. When completed they took a hose and let the water run for at least 10 minutes where the repairs were done to make sure my roof wasn't leaking. It was not and hasn't leaked since. Dustin also checked other areas of my roof to make sure there were no other potential problems and thank god that there were none He could have easily said that there were and I would have fully trusted him and paid to have them fixed. Straight up guy who will not take advantage of you. A pleasure to work with. You can't go wrong by using this company. Do yourself a favor and use this company. You will not be disappointed. Thank you Dustin!!!

Greg Madden was honest and trustworthy. He walked me through the whole process. Everything he said was done. The roof and gutters came out wonderful. I am so thankful for meeting Greg. This was a very good experience. I wish every company worked like this.

I recently started working with RRCA and is by far one of the best companies I have ever worked with! Every single person here works very hard to make sure that all clients are taken care and happy!

SCHEDULE YOUR FREE ROOF CERTIFICATION TODAY!
HIRE A ROOFING COMPANY YOU CAN TRUST