RRCA offers top-notch roofing services in Naples, Florida. Our roofing contractors specialize in storm damage roof repairs and replacement.
Florida's intense hurricanes have the potential to cause both obvious and hidden damage to roofs. Prompt attention and repair by a professional roofing contractor is crucial when encountering significant roof damage. At RRCA, our Naples roofers possess comprehensive expertise in all facets of storm damage roof repair, using high-quality roofing products.
Our process begins with dispatching a certified team specializing in high-quality roofing to your residence for a comprehensive damage assessment and cost estimation. Upon filing an insurance claim with your insurance company, we can coordinate a meeting with the adjuster during their property visit to ensure accurate documentation of all damages. The RRCA has partnered with top insurers in Naples, FL, ensuring comprehensive coverage and peace of mind. Give us a call today to get a brand-new roof!





Roofing Types Resistant to Storm Damage
Naples is known for its coastal beauty, which poses a unique challenge with frequent storms and hurricanes. To safeguard your home in this dynamic climate, selecting the right roofing material is crucial. At RRCA, we specialize in providing durable roofing solutions that can withstand the toughest weather conditions. We'll share storm-resistant roofing options tailored for Naples, FL.
Metal Roofing
Metal roofs in Naples, FL offer exceptional strength and resilience against storms. With proper installation, they can last over 50 years, providing long-term protection with minimal maintenance. An ideal choice for homeowners seeking a hassle-free, storm-resistant option.
Impact-Resistant Shingles
Impact-resistant shingles are created to absorb hail force and withstand strong winds, providing extra protection against storm damage. Naples homeowners have a variety of impact-resistant shingle styles, colors, and warranties to choose from, combining both defense and aesthetic appeal.
Concrete and Clay Tiles
Concrete and clay tiles have a well-established history of enduring severe weather conditions, such as strong winds and heavy rain, which are common during storms in Naples. These tiles offer inherent thermal insulation, effectively regulating indoor temperatures and enhancing energy efficiency.
Synthetic Roofing Materials
Cutting-edge storm-resistant solutions are found in synthetic roofing materials, specifically advanced polymer composites. These materials strike a perfect balance between style and strength, offering exceptional protection against impacts, moisture, and harmful UV rays. With their ability to mimic the look and texture of traditional materials, synthetic roofing options provide a visually appealing choice for homeowners in Naples.
Tile Roofing
Tile roofing is celebrated for its timeless beauty and exceptional durability against storms. This robust material can withstand strong winds and heavy rain, making it an ideal option for the storm-prone environment of Naples. With regular upkeep, tile roofs can endure for decades, offering enduring protection for your home in Naples.
Selecting the proper roofing material is crucial for safeguarding your home during storms. At RRCA, we specialize in delivering customized roofing solutions designed to tackle the unique climate challenges of Naples, FL. It is advisable to refrain from attempting to assess roof damage by yourself. Please wait for our knowledgeable and licensed team to inspect the roof, determine the appropriate action, and promptly commence with the necessary repairs. Get in touch with us today to discover the finest storm-resistant roofing work options available for your residence in Naples, FL.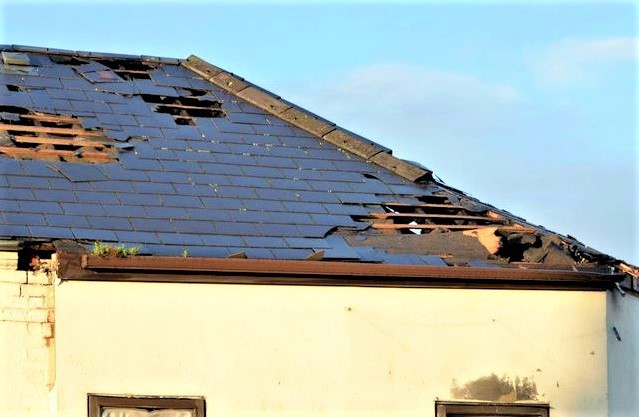 Naples Insurance Claim Assistance
Are you struggling to understand your insurance claim? Don't worry, you're not alone. Even your insurance adjuster may need some assistance! We are here to help you navigate through the process and ensure that your roof is restored properly.
We take meticulous care in measuring every roof and addressing all aspects of the new roof about your insurance claim. Have your gutters been secured to the drip edge? If so, your insurance company is obligated to provide compensation. Did your insurance company cover the cost of re-nailing the wood decking to meet Florida Building Code Standards? Have they considered the need for a permit to replace your roof? Let us review all the details to ensure that nothing is overlooked.
Rest assured, RRCA is dedicated to ensuring that every detail is covered and that you receive the assistance you deserve, whether you require commercial or residential roofing services. Let RRCA take care of it for you. Contact us a call today!
RRCA: Your Trusted Partner for Roof Repair Services
Our mission is to provide quality roof repair services in Naples, FL that leave our satisfied customers fully happy with the results. Our team of certified technicians and project managers have decades of experience working with all types of roofs, from tile to shingle. We only use premium-quality materials and workmanship to ensure the longevity and reliability of the roof. We are committed to providing our customers with the best experience possible and guaranteeing their satisfaction with every job we complete.
Professional Roof Repair Services
RRCA provides a range of roofing services, from simple repairs to maintenance, storm damage patches, and complete roof replacements, all executed with professionalism.
Prompt & Efficient Repairs
Our team will complete your roof repair services promptly and skillfully, taking excellent care of your property.
20+ Years Of Experience
RRCA has more than 20 years of experience in roofing, which enables them to identify and resolve any roofing issues you may have. They will offer the most suitable solution going forward.
With RRCA, you can trust that your roof repair needs are in the hands of experienced professionals. Our commitment to quality ensures that your roof will be repaired according to the highest standards. We strive for excellence with every project we take on and our customer satisfaction ratings speak for themselves – you can trust us to get the job done right! Contact us today if you have any questions about our services or would like a free quote for your next roof repair project!
Home Roof Repair
If your home roof needs repairs, replacement, or even if you just want to talk to an expert, contact us today for a Free Roof Certification for your residence.
Commercial Roof Repair
We specialize in Commercial Roof Repair and Replacement. If your business's roof has been damaged, contact RRCA today for a Free Roof Certification.
The Best Roof Repair Contractors
Our professional roofing contractors are skilled in high quality roof repair services. Our goal is to make your roof repair experience better than what you would ever expect!
WHY CHOOSE RRCA FOR YOUR ROOF REPAIR SERVICES?
Our roof repair company can correct issues such as:
RRCA CUSTOMER REVIEWS
Jared was amazing helping us get all the things we needed to make this a smooth transition to a new roof. Great workmanship as well. Jessica helped with the follow up as well

Great experience with Kris Protano and the RRCA group. Everything from the new roof to the solar system installation is a 5 star experience.

We just recently had our roof replaced with RRCA. We worked with Scott, Shari, and Jay. They were all very helpful and and accommodating throughout the entire process. They were able to give us a fair price on our roof replacement and were easily reachable to answer any questions that we had.

I reached out to RRCA after a storm came through and I noticed damage on my roof. RRCA quickly contacted me and sent Greg out to talk me through options. Greg was always very responsive to any questions I had and made the process easy. Any other conversations I had with the office were pleasant and helpful. Thanks for the new roof and the great customer service!

Dave was great throughout the entire process. The crew worked around rain showers but that's pretty typical for FL and were still able to get the old roof off in 2 days. Installation of the new roof was also completed in 2 days and looks great.

RRCA did a tremendous job on all aspects of our project. Their representatives were always responsive and helpful. While our project had some speed bumps, they were always overcome with the help of RRCA

RRCA was extremely confident and professional. They delvered success at each opportunity

RRCA was very helpful in assisting and guiding us with our insurance and mortgage companies through the entire roofing process. We would recommend RRCA for your roofing needs.

Everyone at RCA has been great to work with sometimes a little bit tough to get ahold of but Nick Hilton has done a great job as as all the employees that I have contact with

SCHEDULE YOUR FREE ROOF CERTIFICATION TODAY!
HIRE A ROOFING COMPANY YOU CAN TRUST