RRCA is a leading roofing contractor in Tampa, FL. Our team of skilled roofing contractors specializes in providing the best roof replacement and repair services for storm damage.
Damage to your roof in Tampa, FL, resulting from storms, including hail, wind, and hurricanes, should never be underestimated. Even the smallest issues can escalate into significant problems if neglected. If you suspect that a recent heavy storm has impacted your roof, don't hesitate to contact RRCA and inquire about our exceptional storm damage repair service. Our Tampa roofing contractors take pride in assisting homeowners with addressing roof damage caused by storms. Whether you need help filing an insurance claim or completing roof repairs, we'll be there to guide you every step of the way.
RRCA will explore the common types of storm damage that residents in Tampa, FL often encounter. We will provide valuable guidance on how to assess your home, select a professional repair service, handle insurance claims, and implement preventive measures to safeguard your home against future storm damage.
Wind Damage
Wind damage can have a significant impact on your home's structure and integrity, especially with a shingle roof. Strong winds can lift, tear, or dislodge shingles, potentially causing leaks and further damage. RRCA's professional roofing services can address these issues and repair the damage, ensuring your home remains protected against future wind-related incidents. Stay vigilant and hire a reputable Tampa roofing contractor from RRCA, a trusted roofing company, to mitigate the risk of wind damage and maintain your home's structural integrity.
Hail Damage
Hailstorms can cause significant damage to your home's roofing, including dents, cracks, and punctures. This can lead to costly leaks and structural issues if not promptly addressed. Professional roofing companies can assess and repair hail damage, protecting your home from future storms. Contact your insurance company to ensure proper care and restoration of your home.
Rain Damage
Rain damage is a common issue for homeowners in Tampa Bay, FL. Heavy rainfall can cause leaks, water damage, and mold growth if not addressed promptly. To prevent rain damage, inspect your roof for wear and tear, work with a reputable Tampa Bay roof repair service, and consider upgrading to storm-resistant roofing materials. Regular maintenance and proper precautions will protect your home and provide peace of mind during storms.
Storm damage in Tampa, FL can come in various forms, such as wind, hail, and rain damage, which commonly affect residential properties. Each type of damage poses unique challenges, and addressing them promptly is crucial to prevent further damage like water damage and mold growth. For optimal protection against future storms and to maintain the condition of your commercial roofing, it is recommended to hire professional roofing contractors from RRCA.
Choosing reputable residential and commercial roofing services, including the new roof installation, can ensure the longevity and durability of your commercial roofing, making a positive impact on the roofing industry in Tampa. Contact us today!





Find the Best Storm Damage Tampa, FL Repair Services
When you reach out to RRCA regarding potential storm damage to your home's roof, we will dispatch a skilled expert who specializes in storm damage roof inspections and insurance claims. After a thorough roof inspection and assessment of the damage, our specialist will provide recommendations on the most suitable commercial or residential roofing system or repair service based on your home's specific roofing needs.
If your home needs a residential roof replacement, then our experts can install the perfect roofing system to fit your home and suit your needs and aesthetic preferences. Our roofing systems include:
Asphalt Roof Shingles
Metal Roofing
Flat Roof
Tile Roofs
We also offer our one-of-a-kind roofing system, which is a hurricane-proof roofing system built to withstand winds of up to 130 miles per hour. This roofing system is exclusive to RRCA customers in the Tampa Bay area and can't be found anywhere else.
Preventative Measures to Protect Your Home from Future Storm-Damaged Roofs
Properly addressing storm damage is of utmost importance. Equally significant is the implementation of preventive measures to safeguard your home from future incidents. RRCA will emphasize the importance of regular maintenance, upgrading roofing materials, and installing storm-resistant features. These actions aim to fortify your home against storms and minimize the potential for damage.
Regular Roofing Maintenance
Regular maintenance is crucial for protecting your home from storm damage. Conduct routine inspections of your roof, gutters, and siding to identify any issues and make necessary repairs. Staying proactive with maintenance tasks ensures the longevity of your home.
Upgrading Roofing Materials
By upgrading your roofing materials to more durable and storm-resistant options, you can add extra protection against future storm damage. For instance, metal roofs or asphalt shingles are impact-resistant materials that are specifically designed to withstand hail impacts. Investing in upgraded roofing materials not only safeguards your home from potential damage but also extends the lifespan of your roof.
Installing Storm-Resistant Features
Installing storm-resistant features like impact-resistant windows, hurricane shutters, and reinforced roofing materials can mitigate damage caused by high winds and flying debris during storms. These features not only provide added protection but can also lower insurance premiums by reducing the risk of home damage. Invest in storm-resistant features, including a reinforced roofing job, to prepare your home for future storms and minimize potential damage.
Protecting your home from storm damage in Tampa, FL requires a comprehensive approach. RRCA is here to assist you every step of the way. This includes understanding the various types of damage, conducting a thorough assessment of your home for potential issues, enlisting the expertise of professional repair specialists, navigating the insurance claims process, and implementing proactive preventive measures. By staying well-informed and taking a proactive stance towards storm damage prevention and repair, you can ensure that your home remains a secure and comfortable sanctuary for years to come. Trust RRCA to safeguard your home and provide peace of mind.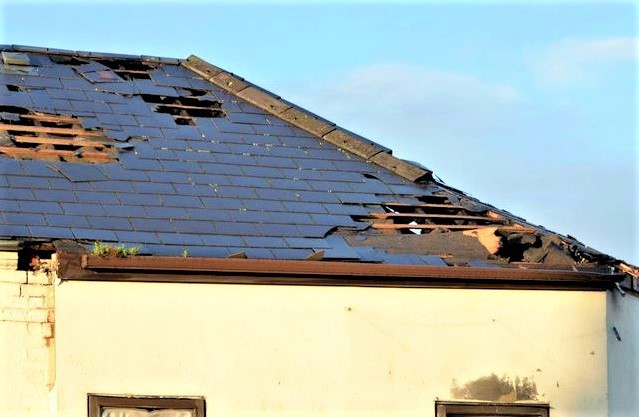 Hiring a Professional Storm Damage Repair Service in Tampa
To schedule a storm damage inspection and Tampa roof repair for your home, contact RRCA today for a free roof estimate. Our team of roofing contractors, known for outstanding customer service, is here to help! We'll schedule a convenient time for an on-site inspection of your property. We understand how urgent it is to repair storm damage quickly and prevent further harm to your home. Rest assured, we strive to provide prompt and efficient service to all our valued clients. Give us a call today for a free estimate!
RRCA: Your Trusted Partner for Roof Repair Services
Our mission is to provide quality roof repair services in Naples, FL that leave our satisfied customers fully happy with the results. Our team of certified technicians and project managers have decades of experience working with all types of roofs, from tile to shingle. We only use premium-quality materials and workmanship to ensure the longevity and reliability of the roof. We are committed to providing our customers with the best experience possible and guaranteeing their satisfaction with every job we complete.
Professional Roof Repair Services
RRCA provides a range of roofing services, from simple repairs to maintenance, storm damage patches, and complete roof replacements, all executed with professionalism.
Prompt & Efficient Repairs
Our team will complete your roof repair services promptly and skillfully, taking excellent care of your property.
20+ Years Of Experience
RRCA has more than 20 years of experience in roofing, which enables them to identify and resolve any roofing issues you may have. They will offer the most suitable solution going forward.
With RRCA, you can trust that your roof repair needs are in the hands of experienced professionals. Our commitment to quality ensures that your roof will be repaired according to the highest standards. We strive for excellence with every project we take on and our customer satisfaction ratings speak for themselves – you can trust us to get the job done right! Contact us today if you have any questions about our services or would like a free quote for your next roof repair project!
Home Roof Repair
If your home roof needs repairs, replacement, or even if you just want to talk to an expert, contact us today for a Free Roof Certification for your residence.
Commercial Roof Repair
We specialize in Commercial Roof Repair and Replacement. If your business's roof has been damaged, contact RRCA today for a Free Roof Certification.
The Best Roof Repair Contractors
Our professional roofing contractors are skilled in high quality roof repair services. Our goal is to make your roof repair experience better than what you would ever expect!
WHY CHOOSE RRCA FOR YOUR ROOF REPAIR SERVICES?
Our roof repair company can correct issues such as:
RRCA CUSTOMER REVIEWS
Jared was amazing helping us get all the things we needed to make this a smooth transition to a new roof. Great workmanship as well. Jessica helped with the follow up as well

Great experience with Kris Protano and the RRCA group. Everything from the new roof to the solar system installation is a 5 star experience.

We just recently had our roof replaced with RRCA. We worked with Scott, Shari, and Jay. They were all very helpful and and accommodating throughout the entire process. They were able to give us a fair price on our roof replacement and were easily reachable to answer any questions that we had.

I reached out to RRCA after a storm came through and I noticed damage on my roof. RRCA quickly contacted me and sent Greg out to talk me through options. Greg was always very responsive to any questions I had and made the process easy. Any other conversations I had with the office were pleasant and helpful. Thanks for the new roof and the great customer service!

Dave was great throughout the entire process. The crew worked around rain showers but that's pretty typical for FL and were still able to get the old roof off in 2 days. Installation of the new roof was also completed in 2 days and looks great.

RRCA did a tremendous job on all aspects of our project. Their representatives were always responsive and helpful. While our project had some speed bumps, they were always overcome with the help of RRCA

RRCA was extremely confident and professional. They delvered success at each opportunity

RRCA was very helpful in assisting and guiding us with our insurance and mortgage companies through the entire roofing process. We would recommend RRCA for your roofing needs.

Everyone at RCA has been great to work with sometimes a little bit tough to get ahold of but Nick Hilton has done a great job as as all the employees that I have contact with

SCHEDULE YOUR FREE ROOF CERTIFICATION TODAY!
HIRE A ROOFING COMPANY YOU CAN TRUST